Kashmir due to its thrilling winter environment has seen the tradition of drying fruits and vegetables since forever. The sun-dried and dehydrated vegetables are the winter delicacies of Kashmiri cuisine, savoured by all.
Most of the vegetables are dried in the summers so that one can consume it later, in the long harsh winters. Tomatoes (RunÔÇÖwagan HacÔÇÖh), bottle gourd (Al HacÔÇÖh ), aubergine (WanÔÇÖgan HacÔÇÖh) are some of the most common and loved dry vegetables in Kashmir.
Earlier, storage of dried vegetables was a necessity due to harsh winters of Kashmir but now people preserve it for keeping their culture and tradition alive. These vegetables could be seen threaded into garlands and hung-up to dry by the window all over the Kashmir. Though fresh vegetables are available around the year in the local markets due to better road connectivity and superior vegetable growing techniques-but for nostalgia people of Kashmir still thong markets to buy dried delicacies.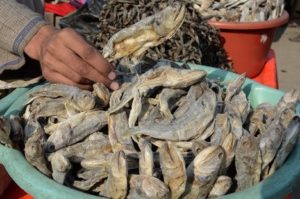 A treat to winters is that valley provides you smoked fish known locally as ÔÇ£FarrigaadÔÇØ ┬á┬áand dried fish ÔÇ£HogadehÔÇØ.Kashmiris believe these dry vegetables, fruits, fishes are the way to keep their culture and tradition alive.
'We want to keep our tradition alive. In winters our kitchen is full of these dry delicacies. Even I parcel these dry vegetables to my Kashmiri Pandit friends. This is not only just a food, this is a way through which I am connected to my old pandit friends.ÔÇØ Said Khalida Begum, a resident of Buchpora Srinagar
Though people love and prefer these dry veggies for their unique taste but this diet can be harmful to your health. The doctors have warned against the use of dried vegetables. They say people of Kashmir should see whether the preservation techniques are healthy.
ÔÇ£We preserve food just to preserve our tradition. Many of us are not aware of the proper methods of drying the vegetables. Most of the times while drying the vegetables there are certain microbes present in them, which are not visible to naked eyes. Besides this, the way they are sold openly on roads, it is very unsafe to consume these veggies.ÔÇØ Said Dr Nissar Mir, renowned physician of Kashmir.
Though the dried vegetables are sold in all parts of the world they are preserved with different techniques in the proper industrial way. They are stored and preserved in safe packing, which is not in case of the valley. Here people use primitive methods for storage of dried vegetables that usually leads to the growth of fungus in the food.