Kashmir; a land transcending sagas and folklore, a place which has produced many eminent saints and mystics- known as the ÔÇ£peer wearÔÇØ (Garden of Saints). Over the years, people of Kashmir have aped the conventional ways of curing and treating themselves- a mode devised by their ancestors.
This blog is a likewise attempt at providing the information related to Kashmiri homemade remedies and herbal plants.
Medicinal value of Kashmiri herbs:
Liquorice.
Local Name: Shnager
This medicinal herb has wide-reaching health benefits and thus, is of great value in naturally treating sore throat, chest congestion, strengthening of bones and muscles, kidney problems, bronchitis, mouth ulcers, hair loss, eyesight, ulceration, Hair growth, Skin fairness, etc
Aesculus indica.
Local name: Handoon. 
Extract of the leaves is used to treat fever. The seed oil is used for healthy hair and for treatment of headaches.
3. Arisaema jacquemontii.
 Local name: Hapet Gogej.
It is used for muscle strength, the ground rhizome is mixed with brassica oil to use for massage. For boils and blisters, dried root or tuber is powdered, mixed with oil and applied on the affected part.
4. Allium sativum.
Local name: Roohun.
Uses: Its Cloves are rubbed on bald portions for hair growth. Cloves are eaten raw or mixed with vegetables as a spice for high blood pressure and obesity.
5. Artmisia absinithium.
Local name: Tethwan.
It is used for abdominal pain, the extract of the whole plant is taken in small doses. It is also used for chronic fever and gout.
Iberian knapweed.
Local name: kraich.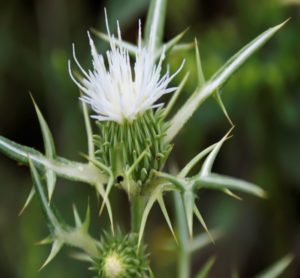 It is dried and eaten as it is believed to be good for the eyesight.
ilarly, dandelion.
Local name: Handd.
It is given to anaemic patients as it is rich in iron.
Anagallis arvensis.
Local name: Chari Saben.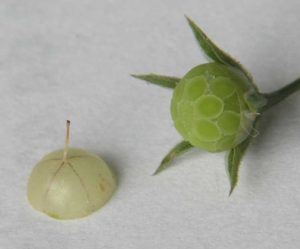 Uses: For ulcers, a crushed plant is applied on affected areas. Extract of the rhizome is given for a sore throat and as an expectorant.
9: 'Buem' or star lotus.
It is believed to be good for arthritis patients as it relieves the swelling of joints,"
10: Adiantum cappilus veneris.
Local name: Gautheer.
Family: Adiantaceae.
Uses: Paste of the plant made with ghee is applied as a hair tonic. Extract of the plant is taken for stomach pain and as an expectorant.