Kashmir Eid -ul-Azha is all set to come on the glittery rider  Honk, Honk! Fasten your seatbelts and get ready. You can smell the happiness and excitement in the Arafah air, the spirits are high and the prices of sheep are sky-rocketing in Eid Gah and so are the hopes of eating gosht (meat) like there is no tomorrow. Isnt it?
Be it a burger bache or traditional food lover everyone is eager to roost and eat barbeques owing to the huge influx of Qurbani meat. Arent you? Well, I am sure you have already cleaned up your barbeque grill 
The sky is charged and people are excited, yippee just one day to go!
The famous market in Kashmir, ÔÇ£LalchowkÔÇØ, is thronged by people; buying clothes, bakery, fruits, carpets etc. Just like most traditions and rituals, Eid celebrations too have changed over the years. In Kashmir, Eid is celebrated in a different way as it was celebrated during the 80ÔÇÖs. Here we will talk about how this simple affair has now become an elaborated and gaudy one. From food to clothes everything has changed. Let us take you back to the golden era of Kashmir.
1. Modification in Traditional Breakfast and Snacks: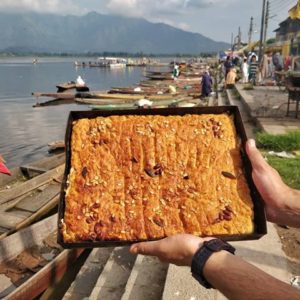 During 80ÔÇÖs the tantalizing aroma of Kehwa on the Eid morning would awake the senses at the dawn accompanied with the traditional delicacies like Bagirkhani, Kandkulcha, shirmal, khatayi, Roth and Basrak. But now globalization and excessive modernization has modified food habits too, with most of the traditional food being replaced with that of British and French Bakery like pastries, sweets and other confectioned biscuits and cookies.
After sweetness of Kashmiri Kehwa by 11 am, it was time for crispy snacks. ChanChabella, KhandGazri and Shanger were the snacks which children then had but nowadays most of us do not even remember the names of these snacks as no one fancies having them over Chocolates and HaldiramÔÇÖs dals.
2. Rouf on Kashmiri Traditional Song :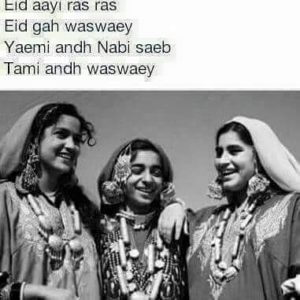 Eid Aye Rasse Rasse Eidgah Was Wai, (Oo My Friend, Eid has arrived, let us go to Eidgah) was the most melodious song which was sung on the occasion of Eid in Kashmir valley. Today, though it is in the hearts of the people of Kashmir, the tradition seems lost in chores and Eid arrangements.
I still remember Eid tale of my grandmother which she would narrate on the day of Arfah to keep me engaged so that I would not disturb my mother, who was busy in cooking delicious Kashmiri cuisine. She used to start her conversation by murmuring the song Eid aye Rasse Rasse, Eid for her meant singing and dancing. In a grief-stricken voice, she used to tell me Eid preparation would have started before a week. The ladies would tap their feet to the famous Kashmiri songs ÔÇ£Aaz che dilas kushhali, Eidhaiye Aye Balyie (Happiness has come for the heart as Eid has come). Girls of her neighbourhood would assemble in the evening to decide from where to start their Rouf journey and challenge each otherÔÇÖs dancing skills. This practice would continue for a week. Eid Gha gazed with the performance of Rouf. Where women performed, men did not venture in. They would do Rouf almost in every house of the neighbourhood.
3. Replacement of traditional lunch with readymade meals on Dastarkhawan: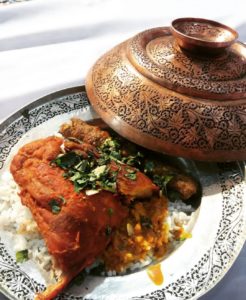 In old days most of the ingredients used in the preparation of Eid dishes were from backyards. Housewives used to start their day of Arfah by cooking handmade yummlious traditional dishes on the old-styled stove ÔÇ£Ukutchor ÔÇ£. But today, neither the ingredients nor the luscious dishes are home-prepared. People purchase the meals (lunch and dinner) from the restaurant on Eid.
4. Traditional Copper Trammi being replaced with Bone China Dinner Sets: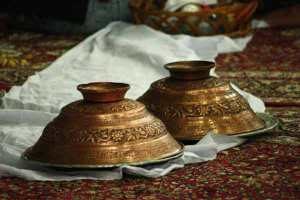 In Kashmir when joint families were more common, people used to dine together and trammiÔÇÖs (coppered -round eating platter) were used on Eid for eating together. But with the introduction of the nuclear family, the concept of dining table and fascinating crockery was abrupt. Most the people prefer to eat in white sparkly plates than trammi as they think this is more hygienic.
But I personally just love the tradition. Trust me, there nothing like eating together in a trammi!
5. Chilled Kashmiri Dessert " Phirnri":

Reviving beautiful past further, after delicious Kashmiri lunch there was always wait for a white fairy delicious Kashmiri dessert ÔÇ£PhirniÔÇØ. ÔÇ£Kong PhirinÔÇØ was the famous Kashmiri desert, ÔÇØKong ÔÇØ means saffron and ÔÇ£PhirinÔÇØ means Phirni which is a sweet pudding made out of Semolina, Milk, Sugar, Khoya and lots of dry fruits. Modernization has also replaced this toothsome phirini with Rasgullas, gulab jamuns, the Ras Malaii and other desserts. But I wonder who wouldnÔÇÖt have a room for chilled phirnii?
"Besides the above-mentioned things, people on Eid used to wear turbans on their head which is now being replaced with shimmery and branded clothes. Children whose Eid love were Gantehbear (Kites) and tikeh wavij are now busy in taking social media selfies with qurbani sheep and exploring new snapchat filter on bakra."
Let us end this blog with saying of Zareef Ahmed Zareef
ÔÇ£Ranun moth maaz,
Kokra, eanz te chamen
Eid zayne kashar awaman
Yada mene mair halfan triv
Kath bozet aye zamenÔÇØ
ÔÇ£To cook meat, chicken, swan and cheese is the meaning of Eid for people, who have forgotten the real meaning of life, and when one reminds them they say ignore it.ÔÇØ
Share with us if you remember any past beautiful memories of Eid which you miss today. We will love to hear from you. Illaaj.com wishes you a happy and blessed Eid ÔÇ£Eid Sayed to EveryoneÔÇØ.