Parvaiz Ahmad, 27, was bullied at school for being short. At 4.5 feet, he was always the last one to be picked for school cricket and football teams. A sense of discomfort and inferiority still lingers.
A resident of Kupwara in Indian-administered Kashmir, Ahmad believes being
ÔÇ£A┬áperson with dwarfism is akin to being a person with disabilitiesÔÇØ.
ÔÇ£The worst thing about being short is that there is nothing we can do about it. Overweight┬ápeople┬ácan follow a diet and exercise, and skinny people can eat and lift weight,ÔÇØ Ahmad complains as we chat inside a cafe located on the bank of river Jhelum near his office in Srinagar ÔÇô the summer capital of the strife-torn state.
Ahmad lives with his three sisters and three brothers who all are of average height; during their childhood, they too used to poke fun at him.
ÔÇ£It was one of the most difficult phases of my life. I always wished to die,ÔÇØ he recalls with a sigh and says family support is very important for little people.
According to Ahmad, people with dwarfism are treated like children at work places and are hardly taken seriously. During his early academic years, television caught AhmadÔÇÖs attention; he wanted to join the entertainment industry to make money and to also give a befitting reply to those who believed he was of no good. ÔÇ£After passing Grade 10, I successfully managed to enter the industry but due to my short height, I ended up editing video tapes,ÔÇØ he shares, lamenting that little people are never judged on the basis of their skill and talent.For little people like Ahmad, itÔÇÖs also difficult to find life partners as he says women often dream of tall and handsome men.
ÔÇ£Friends, relatives and acquaintance usually come forward to find a perfect life partner for everyone but in our case, they act as a mute spectator. With no matchmakers to help us, we have to find someone on our own,ÔÇØ Ahmad says.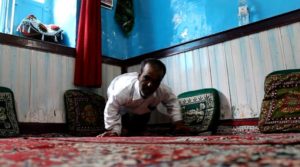 The people with dwarfism who do manage to find a life partner, Ahmad says they become internet celebrities for all the wrong reasons. ÔÇ£Our pictures are shared on social networking sites and I donÔÇÖt need to tell you what happens later,ÔÇØ he says.
In the summer of 2013, Ahmad married Hafiza Begum who lived in his neighbourhood; his sister acted as a matchmaker. A few years later, the couple was blessed with a baby boy, Adnan and since that day, Ahmad has focused all his energies to prove he is a good father.
ÔÇ£I want to be a good parent and hopefully height wonÔÇÖt be criteria for being one,ÔÇØ Ahmad says with a tinge of bitter sarcasm.
Dwarfism, however, sometimes does act as a hurdle in AhmadÔÇÖs fatherhood. He recalls how patients and doctors alike at a government hospital refused to help him when Adnan was suffering from pneumonia.
ÔÇ£Instead of helping a disabled person, people at the hospital rebuked and insulted us for trying to enter the doctorÔÇÖs chamber before our turn. I too have sentiments, I too get angry but I am helpless; I can never stand up for my family because of my height,ÔÇØ Ahmad says.
Double whammy
Less than four kilometres away from the city center Lal Chowk lives 4.1 feet tall Abdul Hameed Sheikh. Now a 50-year-old man, Sheikh has been working as a peon at a government school for more than 30 years. Before this, he was working with a local tailor to learn the tricks of the trade; however, a wrongly-stitched trouser landed him in trouble with his master.
ÔÇ£My teacher hit me in the back of my neck with a ruler; I collapsed and fell into a drain,ÔÇØ Sheikh remembers.
Sheikh was rescued by Jalali Sahab, then principal of the government school he works at, who took him to the school building. ÔÇ£Once I regained my senses, I was not able to stand up and Jalali Sahab took care of me like a child. After the incident, I was a person with dwarfism and a person with a physical disability; taking pity on my condition, Jalali Sahab offered me a job,ÔÇØ he narrates sitting on an old unpolished wooden table-chair near the school gate.
Unlike Ahmad, Sheikh was lucky to have supportive siblings. After the death of his parents, his five brothers took care of him. Two years ago, when Shiekh was hospitalised for 15 days to undergo surgeries for urinary bladder suspension and removal of gallstones, his brothers stayed by his bed the entire time.
SheikhÔÇÖs sister-in-law shares how her husband has maintained an organised record of his medical reports and how he doesnÔÇÖt tolerate anything against him.
ÔÇ£Once I called Sheikh by a funny nickname and my husband did not speak to me for three days,ÔÇØ she shares.
For Sheikh, kindness is not limited to just his family members. Two years ago when his special red bicycle stopped working, he found a few teenagers to push his bicycle like a pushcart to wherever he needs to go.
ÔÇ£I purchased the second-hand vehicle for $170 with my savings from another person with disabilities and dwarfism; I approached the Social Welfare Department for help but to no use. I chose not to visit them again and continue to use the defected one,ÔÇØ Sheikh says.
If real life mockery was not enough, Sheikh says media has also not been nice to little people. ÔÇ£I believe they are making fun of us; arenÔÇÖt they?ÔÇØ he asks innocently.
ÔÇ£I understand what we see on the screen is fiction but producers and directors portray people with dwarfism as clowns; we are not clowns, we are people with different abilities and needs. Whenever I see such shows, my heart aches,ÔÇØ he shares.
Lifetime of misery
While little people struggle with their lives, their loved ones also share the pain and sufferings. Haleema*, mother of children with dwarfism, finds it difficult to put in words what her family has been through.
ÔÇ£From our relatives, friends to neighbors, no one ever misses a chance to ridicule us,ÔÇØ she shares as we sit in their drawing room.
ÔÇ£My daughters, Simran* and Hoorain*, always wanted to attend┬áfirresaal┬áand┬ásatiumsaal┬áÔÇô local wedding events ÔÇô but were never invited. Once, I just sent Hoorain but┬áshe was told to leave because it was embarrassing for our relatives to take her along. She came back home in tears,ÔÇØ Haleema shares, who herself is of average height.
When looking for a groom for Hoorain, Haleema says everyone acted as a barrier with even matchmakers making fun of her. The effect was such that Hoorain fell into depression and started taking medicines to grow taller without consulting a doctor.
ÔÇ£The pills didnÔÇÖt change her height but her health deteriorated day by day,ÔÇØ Haleema says.
Now married to a person of average height, Haleema says Hoorain is happy though their financial condition is not good.
HoorainÔÇÖs sister Simran also joined the conversation after several requests. ÔÇ£She is a bit arrogant,ÔÇØ her mother warns. The words that come out of her mouth only confirm the statement. ÔÇ£Why do you want to talk to me? Sorry, I donÔÇÖt want to talk. I donÔÇÖt face any hardship; canÔÇÖt you see I am happy? You can leave if you have some self-respect,ÔÇØ Simran blurts and walks out of the room leaving Haleema embarrassed.
Her close friend Iqra Bhatt* attributes her short temper to what she went through at school and college.
ÔÇ£We have to put our belongings on high shelves and as Simran couldnÔÇÖt reach them, she felt sad. She stayed alone and slowly, slowly began to lose her cool. The final outcome is in front of you,ÔÇØ she explains.
Simran also suffered from a heartbreak which left a lasting effect. As Bhatt narrates, she fell for a boy named Shahzad* via Facebook chats.
ÔÇ£She avoided meeting him so that he doesnÔÇÖt find out about her height but showed him her face through a window once. When they did meet finally, Shahzad broke up with her because of her dwarfism; SimranÔÇÖs first love turned out to be her last,ÔÇØ Bhatt says.
"This story was earlier published in Express Tribune."